J-20 Fifth-generation Fighter Jet
Since making its first flight on January 11, 2011, which only lasted 15 minutes, the J-20 has become a formidable force in the Chinese military and throughout the world. It reportedly entered military service in March 2017, and experts believe it could have greater stealth capabilities than the American F-22 Raptor.
It was reported in 2009; the 300 billion dollar Joint Strike Fighter Project was hacked by the Chinese, which ultimately leads to the creation of the J-20. Cost: $110 Million per Jet.
J-31 Falcon Hawk Fifth-generation Fighter Jet
First unveiled to the public as a 1/4-scale model at the China International Aviation and Aerospace Exhibition 2012, the Shenyang J-31 (or Falcon Hawk) is China's shot at a fifth-generation stealth jet fighter. It is expected to enter service in 2018 or 2019. China offers J-31 to export customer at the cost of $70 million.
J-11 Fourth-generation Fighter Jet
Carrying both Russian and Chinese weapons, the J-11 is not the bird you want to see flying over your nation's skies. It is comparable to the US Air Force's F-15 and F-16. It is estimated there are about 250 J-11s built for the People's Liberation Army Air Force. The first production of this jet was back in 1998.
It has a 30mm cannon for pinpoint accuracy, plus it can release free-fall cluster bombs if it feels like it. Cost: $30 Million per Jet.
J-15 Fourth-generation Fighter Jet
The Chinese navy also conducted carrier-based operations with its new Shenyang J-15 Flying Shark unlicensed derivative of the Sukhoi Su-33 Flanker in 2013. By September of last year, the report notes that PLAN pilots flying the J-15 were conducting full-stops and takeoffs with weapon loads at full maximum gross weights onboard the carrier Liaoning. Although the J-15 has a land-based combat radius of 1,200 km, the aircraft will be limited in range and armament when operating from the carrier, because the ski-jump design does not provide as much airspeed and, therefore, lift at takeoff as a catapult design.
J-16 Plus Fourth-generation Fighter Jet
The J-16 is an indigenously built fighter modelled after Russia's multi-role Su-30 Flanker fighter jet, which aviation experts consider to fare favourably against the US F-15 Strike Eagle. China's air force and navy also operate the Su-30. The J-16 is more advanced that the J-11 (which is itself modelled on the closely related Su-27) in the sense that it is well-suited for ground strike missions as well as air-to-air combat.
The aircraft in question is a variant of the two-seat J-16 Red Eagle strike plane—itself a Chinese copy of the Russian Sukhoi Su-30MKK Flanker. The two-seat Red Eagle is roughly comparable to the American F-15E and improves upon the Russian original with new avionics including an Active Electronically Scanned Array radar (AESA), the current state of the art in fighter-based radar technology. The J-16D variant—the "D" in the designation comes from the Chinese word for "electronic," diànzǐ—made its first flight on December 18, 2015.
J-10 Plus Fourth-generation Fighter Jet
Also known as the "Vigorous Dragons". Chengdu Aircraft Industries built the squad of about 400 J-10s. This jet can be either one pilot (J-10A) or two pilot seater (J-10). The development program for the J-10 started back in 2002 and roughly cost $45 million (USD). The jet is still being used by the People's Liberation Army Air Force.
Xian H-6 Bomber
The H-6 has been around for a few decades, but China is still using it. The aircraft is powerful, capable of producing long-range attacks and engaging in prolonged stand-offs against opponents.
Wing Loong UAV
Wing Loong (Yilong / Pterodactyl) is a medium-altitude, long-endurance (MALE), unmanned aerial vehicle (UAV) developed by Chengdu Aircraft Design & Research Institute (CADI), a division of the Aviation Industry Corporation of China (AVIC). Wing Loong II, an upgraded version of the Wing Loong, was unveiled at the Beijing Aviation Expo held in September 2015.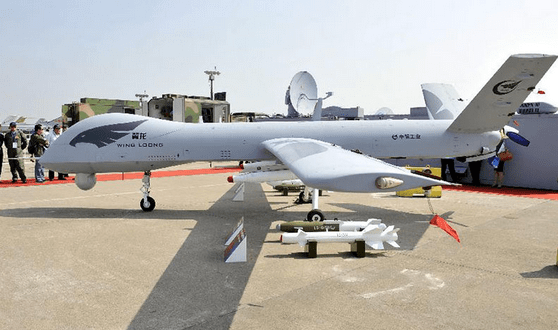 CH-500 UAV
The CH-500 packs two HJ-10 anti-tank missiles that just might obliterate its opponents with ease, as the vessel can be called upon for a last-second airstrike anytime.
CH-805 UAV

Developed by the China Aerospace Science and Technology Corporation, this new CH-805 unmanned aerial vehicle closely resembles the American B-2 bomber.
CH-5 UAV
China has announced that it is ready to mass produce the Cai Hong 5 (Rainbow 5, or CH-5) strike-capable unmanned aerial vehicle (UAV) that was unveiled at Airshow China in November 2016.
Shi Wen, chief designer of the CH series, told the paper that the CH-5 outperforms all of its Chinese-made counterparts when it comes to operational endurance and payload capacity. "The UAV is as good as the US-made General Atomics MQ-9 Reaper: a hunter-killer drone often deemed by Western analysts as the best of its kind," he claimed.
EA-03 Soar Eagle
The Guizhou EA-03 "Soar Eagle" is a step in this direction, utilizing a full-scale body and advanced planform with turbojet engine propulsion. The Soar Eagle bears a distinct resemblance to the Northrop Grumman Global Hawk long-range High-Altitude Long Endurance (HALE) UAV.
Harbin Z-19
Reaching top speeds of 174 miles per hour, this Harbin Z-19 can quickly surround and target its enemies. It contains two Pylon stores for rockets, in addition to its gun pods and 8x HJ-8 missiles. Oh, and it also contains 8x TY-90 air-to-air missiles.
CAIG Z-18 Transport Helicopter
The Changhe Aircraft Industries Group (CAIG) Z-18A transport helicopter has entered service with the People's Liberation Army Ground Force (PLAGF), a news report by the state-owned broadcaster China Central Television (CCTV) has suggested.
The Z-18A is based on the commercial three-engine Avicopter AC313 multirole medium-lift transport helicopter developed by the Aviation Industry Corporation of China (AVIC). First seen in December 2014 in Chinese state media, the platform is reported to have undergone high-altitude tests on the Tibetan Plateau in January 2015.
Y-20 Heavy-lift Aircraft
The Y-20 is a new Chinese transport aircraft. It is also referred as Kunpeng, a legendary bird from Chinese mythology. It is a milestone in China's defense industry. Series production of the Y-20 began in 2015. This aircraft became operational with the Chinese air force in 2016. The AVIC-developed plane looks similar to the Boeing C-17 which many US observers claim that it a copy of Boeing's highly successful C-17 heavy lift cargo plane.

KJ-3000 AEWC
The China Radio International reported that improved version of KJ-2000 specialised in directing air-to-surface combat dubbed as KJ-3000 is in under development- citing Chinese military expert. The new type of airborne early warning & control aircraft (AEW&C) disclosed this time is called the KJ-3000. Experts said that, along with the successful trial flights of China's Y-20, in the future China can develop its AEW&C on the basis of the Y-20 transport aircraft.
It has to be improved, if we are to give further play of its potential and develop a weapon we lack in conducting long-distance reconnaissance and accurate positioning of land targets, and giving guidance in attacking them. Its major function is to give guidance not just in air combat, but in air-to-surface combat also.
© 2018 – 2019, GDC. © GDC and www.globaldefensecorp.com. Unauthorized use and/or duplication of this material without express and written permission from this site's author and/or owner is strictly prohibited. Excerpts and links may be used, provided that full and clear credit is given to www.globaldefensecorp.com with appropriate and specific direction to the original content.