The Hotan airbase lies about 200 miles from Ladakh where the Indian and Chinese troops were engaged in a brutal clash, killing 20 Indian soldiers and an unconfirmed number on the Chinese side. Both sides are trying to resolve the standoff through diplomatic and military means, however, the process has been excruciatingly slow.
With additional troops moved to key areas of Eastern Ladakh, the Indian Army has decided to maintain its current strength of troops, tanks, and other weaponry, while the Indian Air Force (IAF) is on high alert at forward airbases along the Line of Actual Control (LAC).
IAF has deployed its Su-30 MKI, MiG-29, and MiG-29K fighters in the border region and could also eventually deploy newly arrived Rafale jets in the future.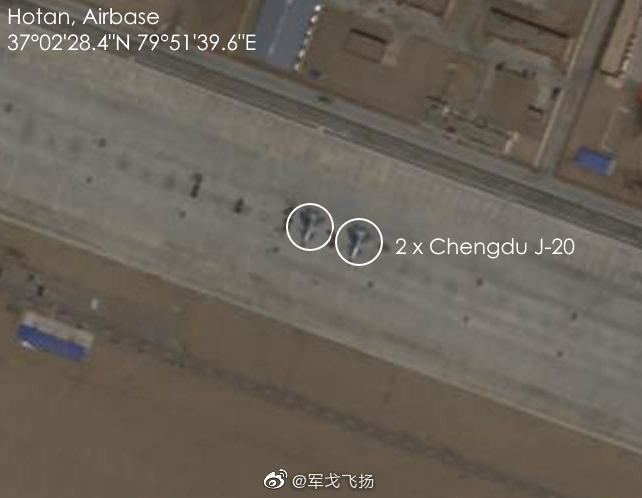 China had also deployed its at least six H-6 bombers with KD-63 cruise missiles at Kashgar airport, also in Xinjiang, around 500 miles from Ladakh. Looking at the ongoing disengagement process, experts believe that the process will take longer to reach the point of total disengagement.
Experts argue that such a tiny contingent of J-20s deployed is not sufficient. China possesses around 40 J-20s. "The tiny contingent of J-20s arguably is less potent than the H-6 as the J-20 is yet to earn ground attack capability.
Two J-20s flying together probably could mount no more than a single patrol every couple of days. Double the J-20 detachment to four planes, and you might get a daily two-jet mission," wrote David Axe, an author, and a US military correspondent.
"The Sukhoi's radar can see them. The new Chinese jets are not so invisible after all. No special technology is required to detect the J-20, as it can be detected by ordinary radar stations," Indian Air Force commander Arup Shaha said.
Indian Air Force has no reasons to be afraid of the Chinese fighter J20. Air Chief Marshal Birender Singh Dhanoa said the Indian Air Force is capable enough to take on Chinese forces and is fully prepared to meet any challenges.
© 2020, GDC. © GDC and www.globaldefensecorp.com. Unauthorized use and/or duplication of this material without express and written permission from this site's author and/or owner is strictly prohibited. Excerpts and links may be used, provided that full and clear credit is given to www.globaldefensecorp.com with appropriate and specific direction to the original content.